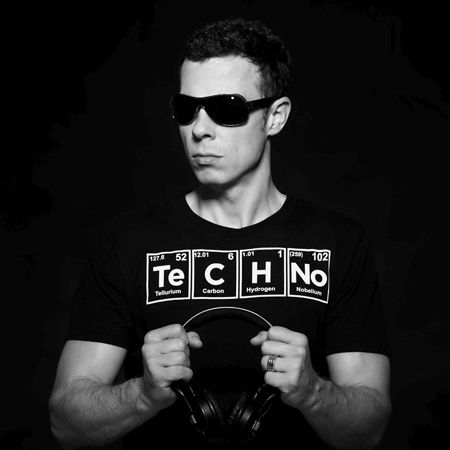 The story of a techno addict…
Hannes Matthiessen (formerly known as DJ Scarecrow) was born on September 17th in Hamburg in 1976. He discovered his Passion for music at a very young age and bought his first records at the age of 12 years. In 1995 he bought his first professional MK2 turntables from Technics and started hanging up. After some minor gigs, he got 1997 his first residency in the trendy Hamburg club "Tunnel" on the Great Freedom in the heart of the Hamburg Reeperbahn. There he played for three years as official resident DJ on the techno floor, as well as at all main tunnel events. Together with a friend of his DJ colleague "Taurus" he hosted the monthly
"New Adventure Club" taking place in the tunnel and organized between 1998 and 2000 a fresh and successful party series "Ma-Schiene-Rie" in a club in Teterow with some well-known guest DJs like DJ Mellow-D or DJ Baphomet.

After graduating from high school, he did an internship at "edel records" in August '99 Hamburg, and then worked as a DJ promoter for 3 years. This is how he built extensive contacts played in several trendy clubs and large open-air festivals.
Among them were the "Poison Club" in Düsseldorf, the
"Fusion" in Münster is the "Alte Weaving mill" in Nordhausen or the "Kraftwerk" in Bark. He also played on the main floors of "Liberty One" and "Nature One "festivals, as well as the Sunshine Live car at the G-Move in Hamburg in 2000. For edel Records he mixed two high-selling compilations names "2 Dancefloors "and" Clubbing DJ ".

With his former studio colleague "Chopstick" he produced several tracks, Projects and remixes. Among them were remixes for the club hit "Access" for the renowned label "X-Trax" by "DJ Misjah & DJ Tim" and remixes for "Mario Piú "," State Of Grace "and" A.F.A. (Being Boiled – Voice of Buddha). Your projects "Urban Drive" and "Genuine Groove Feat. Deskee "were examples of another
Gait: smooth break beats with rap pads and were performed by Discomania / Signed Electric Records in 2003 and Music Mail / Scrambled Recordings in 2004. In 2005 he signed a deal with Media Records, where he subsequently had 5 E.P.'s
fresh and banging techno Beatz released. One of them was the crispe Remake "Twilight" of "2 Unlimited's" Evergreen "Twilight Zone" that for quite a bit Caused a sensation on the dance floors and then released as a single CD has been.
For personal reasons, as well as a massive musical change in the
Techno music in the following years, as well as the beginning of his studies in Economic psychology, he interrupted his artistic work for some Years.
Hannes Matthiessen has been back in the techno scene since 2015 and has since then well over 60 tracks on about 30 releases distributed on different labels released. With well-known labels like Vincent Noxx Records, Dolma Red, Dreizehn Schallplatten,
Beast Factory, Elekrax Recordings, Amber Recordings and others.
His sound ranges from uncompromising, straightforward (dark) techno to groovy and playful tech house. Also some more housy and flat ones Productions are among them to express his diverse creative urge to rent. He is currently working on new productions.
Watch out for his rolling, energetic fresh techno soundz!
Find Vincent Noxx Records here